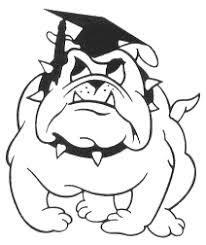 Senior
Julie Brown
Friday, May 22, 2020
*The 12th grade graduation ceremony is scheduled for Sunday, June 14th. Students with last names starting with A-J will graduate at 1:00 p.m., those with last names starting with K-Z start at 2:30 p.m. Graduation will be in the Calera school gymnasium. Students will be expected to be at the Early Childhood cafeteria at 12:15 to get dressed and take a group picture. Please make sure that you are dressed appropriately. Jeans with holes in them or flip flops should not be worn.
*Students will be allowed only 6 tickets for family and friends attending. Tickets will be issued to seniors on graduation day at the Early Childhood cafeteria. Seating will be in bleachers – only students and faculty allowed on floor except for taking pictures receiving diplomas. Ceremonies will be live streamed – information to follow. Valedictorian and Salutatorian speeches will only be given during the 1:00 ceremony. The 'Rose Ceremony' will be held during both senior ceremonies, but students are responsible for bringing their own flowers. Students will be highly encouraged to stay for both senior ceremonies.
*Everyone will be asked to exit the gymnasium between ceremonies to allow for cleaning. There will be a short time between ceremonies to allow for pictures, but people are expected to be considerate of those trying to get in for the second ceremony.
*Please make sure you have your cap, gown and tassel. You should still have time to order from www.jostens.com if you do so immediately. If you don't have what you need or have additional questions, please contact Mr. Robinson (580-434-5700 – select high school option or email: [email protected]), or a senior sponsor (Mrs. Brown, Ms. Carter or Mrs. White).
*Please let us know the way you want your name announced as you go across the stage (if you want your middle name, please put it down) AND your parents' names: (Who and how you want it announced as you walk in). Please email this information to Julie Brown ([email protected]).
Examples:
*Ryan Reynolds, son of James and Tamara Reynolds. (for married parents)
*Ryan Reynolds, son of James Reynolds and Tamara Stewart. (for divorced parents)
*Ryan Reynolds, son of James and Jane Reynolds and Tamara and David Stewart. (for divorced parents and step-parents)
*Ryan Reynolds, son of the late James Reynolds and Tamara Stewart. (for deceased parent)
*Ryan Reynolds, grandson of Ches and Mary Reynolds. (for being raised by grand parent)